One of our favorite projects was this drapery job.
Our client showed us a 16th-17th century wooden candlestick that had been turned into a table lamp and said that she would like to have rods and rings that matched the piece as well as nice formal drapes for her Lake Shore home.
She ordered the fabric from Italy – a nice silk damask, and we got to work.
The wood is oak. We began by distressing them and then soaked them in tannins for a month. When we pulled them from the vat, we distressed them some more and covered them in ochre ground.
Three layers of silver paint, lots of lampblack and grime, and some more distressing gave them a nice feel.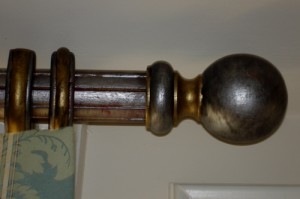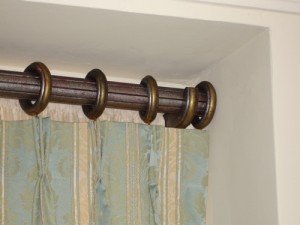 We suspended the silver in purified linseed oil mixed with a bit of aluminum powder. This way, the finish will develop a bit of patina as it ages, but should remain fairly bright. The gold is a gilt paint we made with gold leaf ground with a mortar and pestle and suspended in the same artist-quality purified linseed oil. To keep the rings sliding easily, they were waxed after being installed
The drapes are standard pinch-pleat panels that have a 10 inch pool. Lined with pima cotton and hand finished at the hems and edges, this was some of our best work.
Some pictures as we worked: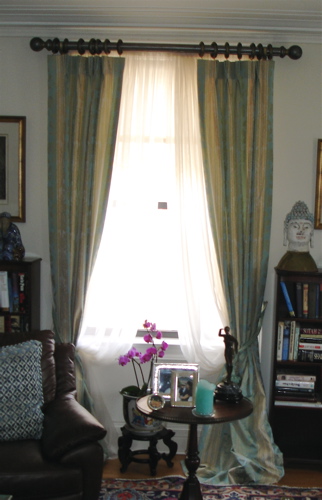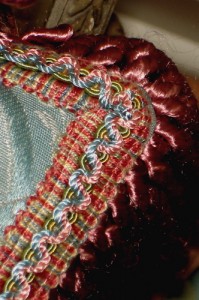 After we were finished with the drapes and rods, we were commissioned to make some softlines with leftover fabric and antique fabric that she had collected.