The question when you are dealing with old furniture is just how far you are going to go with restoration and refinishing.
In this case, it wasn't any concern at all.
What we have here was a broken-down piece that was at one point in time a nice piece… for a lovely boardinghouse.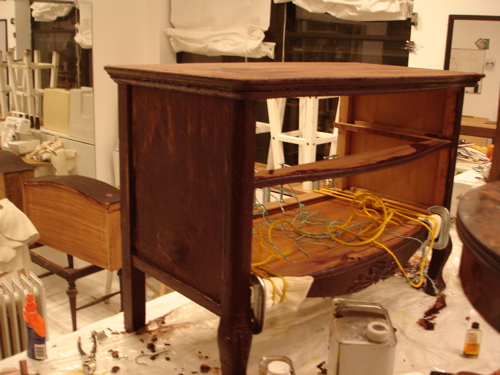 We tend not to strip things outright and rarely touch anything with sandpaper. The trick, in our opinion, is to be sensitive to the piece while making it something you can live with.
In this case, we rubbed it down with #0000 steel wool about 10 times to buff out the scratches and then cleaned up some of the details with alcohol. When we were finished, we began a series of super-thin shellac coats (about a 1 Lb. cut, if you are curious about these things) that were tinted with an 80 year old supply of VanDyke brown pigment.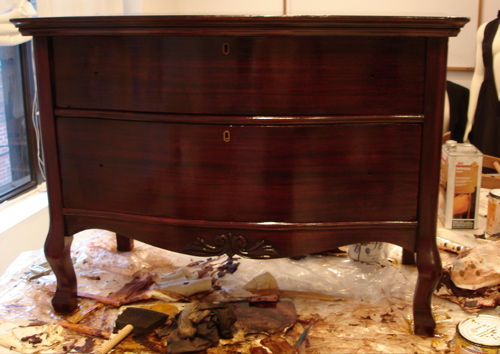 After a little gilding and repair to the decorative scrolls on the front…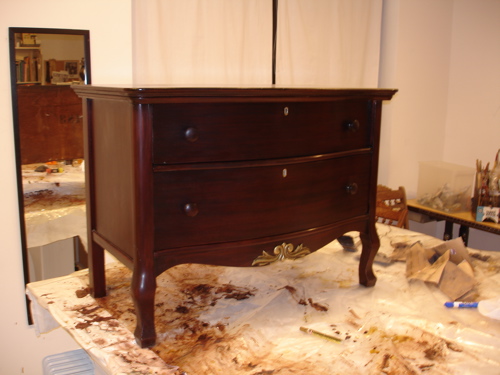 But it turned out all-right, considering it was literally on its way to the burning pile.